NHA TRANG CITY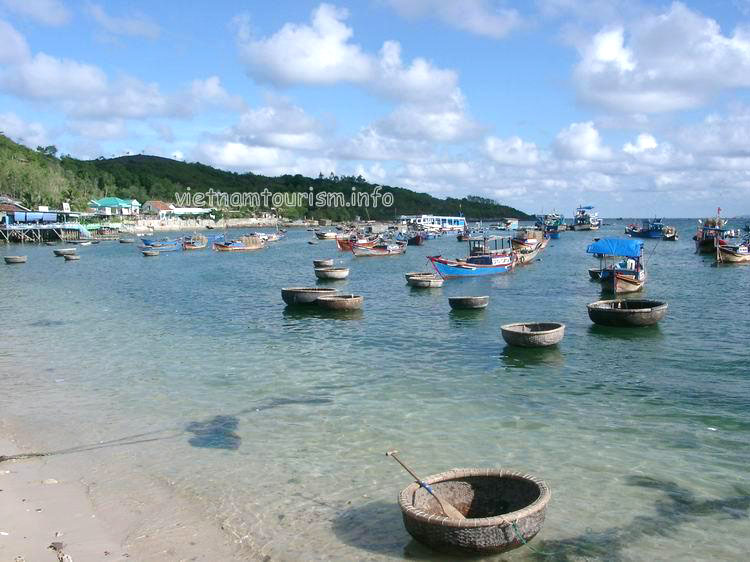 The name Nha trang is a Vietnamese pronunciation of a Cham word Eatran or Yjatran. Ea or Yja means river, and tran means reed. According to the locals, there once were a lot of reeds along Ngoc Hoi river. The river winds its way through the town. Ngoc Hoi was later renamed Nha Trang river.

Another theory of the origin of Nha Trang's name has a more amusing twist. Long ago, in this part of the country, all the houses were made out of the reeds and mud gathered from Ngoc Hoi river. The only house that was made out of bricks were the house belonging to Dr. Yersin, a French immunologist who made his home here. The house itself was painted prominently white and could be seen by vessels coming from far away. Once there was a foreign vessel passing by. The captain asked his translator where he was. The translator not knowing where they were blurted out Nha trang (or white house in Vietnamese). The captain duly noted on his chart Nha Trang. Because most foreign languages do not make use of tones, the captain's name for this part of the country stuck.

Nha Trang, 1,287 km south of Hanoi, 624 km south of Hue and 442 km from Ho Chi Minh city (Saigon), is naturally gifted with a mild climate and geographically located on the North-South axis, thus obtaining all favorable conditions in communication. This city, easily accessible by road, rail, air and waterway, is the main door to the Western Highlands and enjoys the greatest proximity to international waters with its many bays and ports.

Nha Trang has several famous islands. Most notable are Hon Tre, Hon Yen, Hon Rua and the Spratly islands.

Here are the details of some popular tours in Nhatrang:

TRIANGLE RELIGIOUS TRIP
Nha Trang city, small city on the south central coastline of Vietnam, is a famous beach city of Vietnam. Travelers like to travel to Nha Trang, not because of its beach, but also by its historical relics from Cham civilization represented as Po Nagar tower, a sacred Hindu site dating back to the 7th century, Stone Church built in French colony time, to Long Son Pagoda - Buddhist pagoda built in commemoration of the monks and nuns who died whilst fighting the Diem Government.
Timing : Half day. Moring 8.30 am – 12.00 noon. Or Afternoon 1.30 pm – 5.00 pm.


NHA TRANG CITY TOUR
This excursion takes you to visit a selection of the numerous attractions in Nha Trang City.First the car will drive you to Cau Da for a visit the Vietnam Oceanographic Institute. After that, you will go to Long Son Pagoda, Chong Promontory Rocks and the Po Nagar Temples. The tour end after the visit to local Dam Market.
Timing : Full day. 8.30 am – 5.00 pm.


ADVENTURE TOUR 1 day
This excursion is designed for those of you searching for a unique adventure. We offer a wide variety of trips that should not be missed. One of them is a mountain trip. Star from your hotel at 9.00 am, travel by van or motorbike (on request) throughout the countryside and paddy fields. Take time to explore a minority village. Afterthat, take the mountain road to Hon Ba Forest to discover the natures, streams & waterfalls….. Enjoy the picnic lunch & swim in the cool waters of the secret waterfalls. An forgettable day's adventure.
Timing : Full day. 9.00 am – 5.00 pm.

COUNTRYSIDE BIKING SAFARIS
This is specially tailor-made biking excursions. Exploring the country trails, village's life, town and farms, pagoda, the best way to experience the "true" Vietnamese countryside. We have designed all excursions to include can transfer if required, food, fruits and drinks. This trip could be done by car & by bike on request, the extra charge should be added up to this tour, depending on guests' request on the site.
Timing : Full day. 8.30 am – 4.00 pm.

CAI RIVER TRIP IN THE COUNTRYSIDE
Apart from the beautiful beach and ocean, there is a River name "Cai" that is endowed to Nha Trang. Come aboard the scenic river tour. Before boarding the boat, you will be taken to Cham Po Nagar Towers which is one of the best architectures of Cham People. After viewing the Cham Po Nagar Towers, start the boat trip up to the river. Enjoy the beautiful scenery that unfolds along the banks. See the Vietnamese people in their natural scenery & daily life. How is different between swimming in the river and in the sea, why not try? Customary Vietnamese lunch provided in a local restaurant.
Timing : Full day. 8.30 am – 4.00 pm.


NIGHT CRUISE ON THE SEA
Our car & guide pick up you at 3.00 pm from your hotel & transfer to Cau Da port. Cruise to Tam island, where you stop for fishing & snorkelling to see the live coral reefs at the sea bottom of Nhatrang Bay. Fruits & cocktails, mineral waters are served whilst cruising on the sea. Back to Con se Tre restaurant for having BBQ dinner on Bamboo island under a fire of six torches with natural music from the sea & romatic atmosphere, enjoy the sunset & view Nhatrang city by night from the sea. Car & guide transfer you back to the hotel. Tour ends around 9.30 pm
Timing : Half day/by night. 3.00 pm – 9.30 pm.

DIVING & SNORKELLING TOUR AT MUN ISLAND
Start at 8.00 am from your hotel to Cau Da port. Cruise to Mun & Mot islands, where you stop for diving & snorkelling around these islands. You can try 2 dives for the tour, which is 45 minutes per dive. The distance between 2 dives about 2-3 hours, depending on escorted diving instructor & guests' health status. Light Lunch, tea, coffee will be served on boat after the first dive. Enjoy the panorama of the sea, the whole collection of live sea creatures in Nhatrang bay, especially view the beautiful live coral reefs at the sea bottom. Car pick up & transfer back to the hotel. Tour ends around 4 pm.
Timing : Full day. 8.00 am – 4.00 pm ( SIC tour/No private local guide ).
Please note this tour is applicable for Certified divers.
Non-certified divers are on request.

FISHING TOUR AT MUN ISLAND
Start at 8.30 am from your hotel to Cau Da port. Cruise to Mun & Tam islands, where you stop for fishing & snorkelling at Mun Island. Back to Con se Tre restaurant for having seafood lunch on Bamboo island. Enjoy the fish you catch. Relax & swim on your own time. On the way back to the shore, a short visit to fishing village to see the fresh shrimp, zoo groupers, sea crab raised in floating cages. Car & guide transfer you back to the hotel. Tour ends around 4 pm to 5 pm.
Timing : Full day. 8.30 am – 4.00 pm.

SALANGANES ISLAND
It is really a good way to figure out how people get the salanganes nest, the very nutritious food by this trip. Noi Islands is not only known as the Salanganes Islands, but also the only one has the beautiful twin-beach.Joining this trip, you can visit the Salangane Cave where many workersuse bamboo stairs to get the nest on the high cliff. It is really the unforgettable sight. By glass bottom boat, you can see fantastic coral-reefs which are covered with multi coloured fishes, and enjoy swimming, snorkelling in clear, smooth water on the twin-beach. After the various exercises in the water, you can visit the temple on the top of Du Ha 90m heighted mountain as a small climing exercise. The lunch is served with excellent seafood dishes including drinks. Let yourself feel free and opening - mind by watching films about the history of Khanh Hoa Traditional Salagane nest gathering and business and visiting the Ancestor Temple of Salangane gathering working.On the boat back to the dock, you also taste variety seasonal fruits.
Timing : Full day. 8.00 am – 4.00 pm ( Subject to availability )

MONKEY ISLAND & DOC LET BEACH TOUR
Next to Nha Trang bay, Nha Phu bay creates another attraction to tourists. Monkey islands with wild animals, Orchid spring, Hang Tien beach, coral reef are the places we will go sightseeing. Do not hesitate to make friends with hundreds of lovely monkeys on Hon Lao island, and do not miss the funny animal show, play with elephants and ostriches. You really have precious time of relaxation. Come and join us.
You can go on ahead to Doc Lech Beach after your visit to Monkey islands on tour. Doc Lech Beach with really white sand is 55 Km away from Nhatrang city on the North national road, where you can deep yourselves full day on the most of beautiful beach of Vietnam and enjoy wide range of choice of seafood there with cheap price. You will find a lot of domestic visitors there during Summer time in Nhatrang, properly at peak time in June & July within the year.
Timing : Full day. 8.30 am – 5.00 pm.

YANGBAY WATERFALL TOUR
Apart from the beautiful beach and ocean, this tour will bring you to the real nature. Start from your hotel at 9.00 am and travel by car/van to Yangbay Waterfall on the south road. Visit Long Son Pagoda & Dien Khanh Citadel on the way. As come to Yangbay Waterfall, you can see some activities of farmers, ethnic minority people and crocodile farms, join yourself with nature, water, bird singing at the waterfall. After relaxing for a while, back to the 300 years- old country house, namely " Menento Country Home" for packaged lunch box or having lunch there while experiencing the real country atmosphere with some special activities on the site. On the way back to the hotel, see the local making handicrafts, village markets & kindergartents. Tour ends around 4.00 pm. A real return to the nature !
Timing : Full day. 9.00 am – 4.00 pm.

RELAXING TOUR WITH INDIAN AUYVERDIC HERBAL SPA & MASSAGE
This tour is designed as a relaxing & healthy tour. Our Spa van will pick you up from your hotel to Orhid Spa – A Newly-Opened & well designed Spa with exclusively recommended Indian Auyverdic Herbal Massage. Relax and gain your health in Hebals & Mud bathing and treatments by Orchid professional massagers. Besides there are various choice of Spa treatments & beautiy care available upon your request at own cost. After Spa, our van will transfer you back to your hotel through Nha Trang street to observe local Nha Trang life.
Timing : Half day. Morning.8.30 am – 12.00 noon. Or Afternoon. 1.30 pm – 5.00 pm

* Please note:
1, All above tour packages rates are nett & inclusive of transport, local guide, boat cruise or river cruise, entrance fees, mineral waters & cold towels & Vietnamese or seafood lunch (ranging from 70.000 vnd - 100.000 vnd per person/meal, depending on indicated packages).
2, Extra cost for all above packages if guests travel from cruiseship, not on mainland will be supplemented at $US8/pax for all land tours & $US15/pax for islands & snorkeling tours due to guaranteed advance services on the cruiseship dates with fully booked services. In addition, the boarding pass for guests will be arranged by your own companies with the cruiseship partners.
3, The tour packages are provided with English or French tour guides. Supplementary charge for all packages if guests request Japanese, Russian & German Speaking guides: $US15/package tour/Group.